Over the past several months, our research team has conducted many interviews with practice owners across the country regarding "the difficulties of hiring during the pandemic", "Tips on hiring" and "Keeping staff happy". The information below is a culmination of the data collected from these interviews.
The biggest issue practice owners have shared with us since the start of the pandemic has been the inability to hire new staff. Many offices that we've spoken to have lost staff over the past two years and have been unable to attract new staff to replace them. This has caused many practices to operate under-staffed, causing stress on the owners, managers and the staff members that are often covering two positions at once.
I will be using indeed.com as an example in the following information. We are not affiliated with Indeed.com. We are simply familiar with the site and use it ourselves for hiring.
The first issue I want to address is offering a competitive wage:
You need to look at the competition in your area and see what they are offering. If what you're offering is on the low side of your local competition, people are likely going to just scroll on by and seek the listings that are offering a more competitive package.
You can easily do this by doing a job search at indeed.com for the position you are hiring for. Look to see what your competitors are offering to make sure you are competitive. Adjust your offering accordingly. In the example below, I did a search for "Dental Hygienists" in "Portland, OR". You can adjust the filters on the date the ad was posted, how many mile radius from the location you have specified etc. to narrow your search parameters.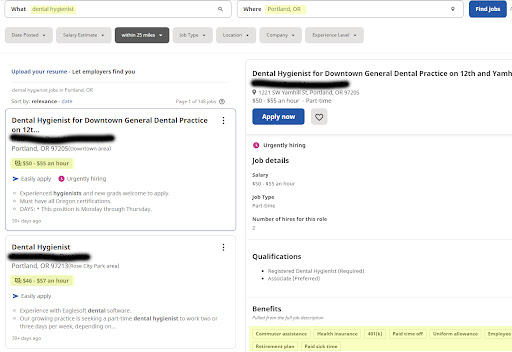 In the above search, there were 148 jobs posted. On the left is the brief synopsis of the job. If I click on that, it displays the details. I can see the wage and benefits being offered by the competition and assess if I need to change what I am offering. This first listing shows they are offering $50-$55 an hour and a benefits package including Commuter assistance, Health Insurance, 401k, PTO, Uniform allowance, Retirement plan and Paid sick time. This is just one listing so my advice is to scroll through many job listings to get a feel for the average wage and benefits being offered in your current market and then decide if you need to make any adjustments to your offer.
List the attributes and qualities you are looking for in a candidate.
This may sound a bit obvious, but, many people I have spoken to simply post an ad that covers the salary, benefits and basic responsibilities of the job they are seeking to hire for. I also highly recommend that you list out the attributes of the candidates you are seeking. You want to attract the individuals with those attributes. If you have this list of attributes with you when posting an ad, it can help to weed out the people you don't want.
What attributes am I talking about here? How about things like: On time, communicates well, team player, takes direction well, great attitude and puts patient wellness first. Name what you really want and you are much more likely to get it!
Consider a signing bonus.
There's been some confusion on how to implement a signing bonus. Here's what I recommend:
Structure it to be paid out over 4 installments, 3 months apart starting after the person has worked 90 days. This encourages them to be there for at least a year. You're not handing a new hire a check for $xx.xx when they walk in the door on their first day. If they want to receive the entirety of their signing bonus, they will need to work in your office for at least one year.
Furthermore, you would put it in writing in their hiring/salary agreement that if they quit or are fired before all of the signing bonus payments are made, they forfeit the remainder of the bonus.
Be proactive about finding new staff.
Most of the practice owners I've spoken to that use indeed.com are only using the site to post their ad and receive resumes from interested people. This is good but there is another feature on the site that lets you view ALL of the resumes that are posted for people seeking a specific position. It's a feature called "Find Candidates". You have to sign up for a separate subscription service in order to fully use this feature. The current fee structure for this feature is: To contact up to 30 candidates per month it's $100.00 per month. To contact up to 100 candidates per month it's $250.00 per month. This will continue to renew on a monthly basis until you cancel your subscription. The biggest benefit to using this service is that it allows you to proactively reach out to qualified candidates directly instead of hoping that they see your ad and respond to it. It gives you more control.
From the main page of the indeed.com website, look at the top right hand corner of the page for a link that says "Employers/Post job" and click it. This will take you to the "Jobs" page. In the top, black navigation bar of this page is a link that says "Find Candidates". Click this link.
Once you are on the "Find Candidates" page, you can enter the job position you are looking for and the location you are in. Then you'll hit the search button.
In the example below, I did a search for "veterinary Technician" in "Chicago, IL". You can adjust the filters on the date the resume was last updated, how many mile radius from the location you have specified etc. to narrow your search parameters. I set the filters to a 10 mile radius of Chicago and the Resume last updated within the last month. It came up with 35 current candidates for me to contact.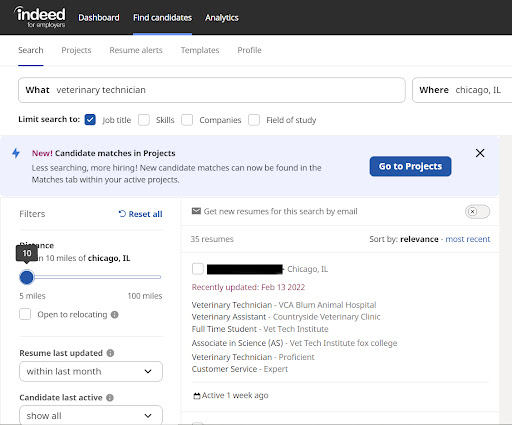 If you click on a candidate's name, it will bring up their resume. If you are interested in talking to this candidate, check the box next to their name (I've blacked out the name in this image). It will give you the ability to send them an email message through the indeed.com website. I recommend writing a template for this initial contact that you can reuse.
If the candidate is interested, they will check a box on their end that says they are interested. Indeed will then notify you by email that they are interested in the position. This will also give you access to their phone number so that you can call them directly to discuss the position and determine if you would like to set up an in-person interview.
How about hiring Associate Doctors?
Indeed.com also has listings for Associate Doctors! However, these listings are going to be pretty scarce in rural areas. In larger, more urban areas I have found many associate doctors listed in the searches I have performed. If you are in a rural area and looking for an associate, try widening the search parameters by setting the radius filter to it's maximum setting.
Using the "Find Candidates" method of hiring gives you more control in locating potential candidates. I recommend both posting your normal ad on indeed.com as well as using the Find Candidates feature for the best coverage.
I hope these tips on hiring are useful to you.
If you feel you would benefit from a one on one consultation on any practice management questions or concerns, please fill out the form on this page and we would be more than willing to assist you.
Sincerely,
Ken DeRouchie
Chief Editor – The Practice Solution
If you are a Practice Owner and need assistance in implementing this article or any practice management topic, we offer one hour of complementary consulting for free, if you participate in a 15 minute anonymous interview to help us in our upcoming publications. Fill out the form below: